Best Laundry Room Idea: Combine Function, Practicality, and Style
Doing laundry is a fact of life. Clothes, towels, sheets, and other items get dirty. You have to wash them. Interior design can and should also extend to your laundry room. Here is your best laundry room idea –  combine function and practicality with style.
Whether your laundry room is tiny or spacious, there is much you can do to maximize your productivity.
Redesigning your laundry room cabinets is one of the best ways to increase storage space in your home. Many times, people do not have enough cabinets in laundry room areas or even their kitchen. Perhaps your pantry is small or inconveniently located. A thorough redesign of your laundry room layout can provide you a larger pantry, increased storage space, and an updated appearance.
Modernizing Your Laundry Room with Updated Cabinets
The best laundry room idea begins with a desire. What do you crave in this space? For some people, it is all about having additional room for storage. Many older homes and condos are lacking in cabinets. Closets become stacked sky high with boxes and bins. Incorporating more storage into your laundry room design will ease the burden of where to store those dishes you use only once a year.
In the before and after laundry room décor photos below, you can see how every space was expertly filled with additional storage. The modern cabinetry breathed new life into this space, allowing for wide shelving to hold sorting laundry baskets. For families with young children, the baskets help to teach them to sort their clothes at an early age. Of course, this time-saving feature simplifies laundry time for mom and dad.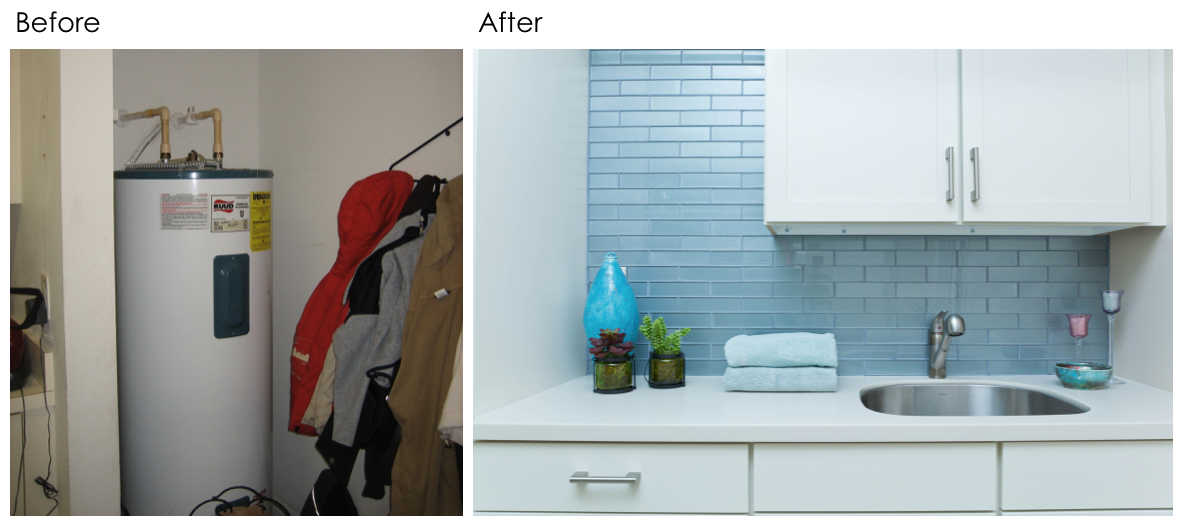 You may be thinking that it is not necessary to consider décor for laundry room in your interior design plans. Just look at the lovely touch the blue tile brings behind the sink. For a very small cost, the modest upgrade can enhance your home's value when you go to sell it in the future.
Maximizing Your Laundry Room Space and Function
What else is important to you in your laundry room plans? For the owner of this home, increased counter space was also desired. A laundry room with sink and counter space can make it easier to pretreat stains, as well as do hand laundry.
Whether you are looking for small laundry room ideas or want to reimagine a larger space you have now, an interior designer can help transform your work area.
Creating functional, practical, and stylish laundry room plans does not have to be expensive. What they can save you in time and stress now and in the future will likely be worth the added expense of turning to a professional for help.
Do you have a laundry room or other area of your home in need of updating? If so, please contact HK Interiors with your personal queries. We are here to help you design the room, space, home, or office that reflects your style. Call us today at 954-401-8542 for all your interior design needs.