Interior Design with the Color Blue
If you are considering an interior design with the color blue, you have come to the right place. Blue is a primary color that easily fits into most design plans. Mixed with yellow, blue becomes green. Alter the amount of blue and yellow, and you have a vast array of different hues. When you combine blue and red in various amounts, you get differing shades of purple.
Blue and white are fairly common colors for china patterns. Blue is serene like the sky, powerful like the ocean, and brings a refreshing touch to any room. The color blue is often associated with creativity and can have a calming effect, making it an excellent choice for bedrooms.
Deep blue accents in an office can instill a feeling of reliability and trust. You get an orderly feeling when blue takes control. When you bring interior design with the color blue into a home office, you also get a sense of security and tranquility.
Light shades of blue bring:
Healing
Health
Tranquility
Softness
Relaxation
Intuition
Inspiration
Peace
Understanding
Dark shades of blue offer:
Integrity
Knowledge
Strength
Trust
Stability
Confidence
Elegance
Power
Professionalism
Using the Color Blue When Updating Your Home's Interior Design
Blue is one of the most versatile colors to use in interior design. Although considered to be an appetite suppressant, blue is often seen in kitchens. In the room here, you can see how the blue in the granite and the pendant lighting bring the ocean and sky indoors. It is as if they are an extension of nature. Rather than suppressing, interior design with the color blue in this kitchen provides a relaxing feel for meal time. Blue helps to lower the metabolism, especially when using pale shades of blue.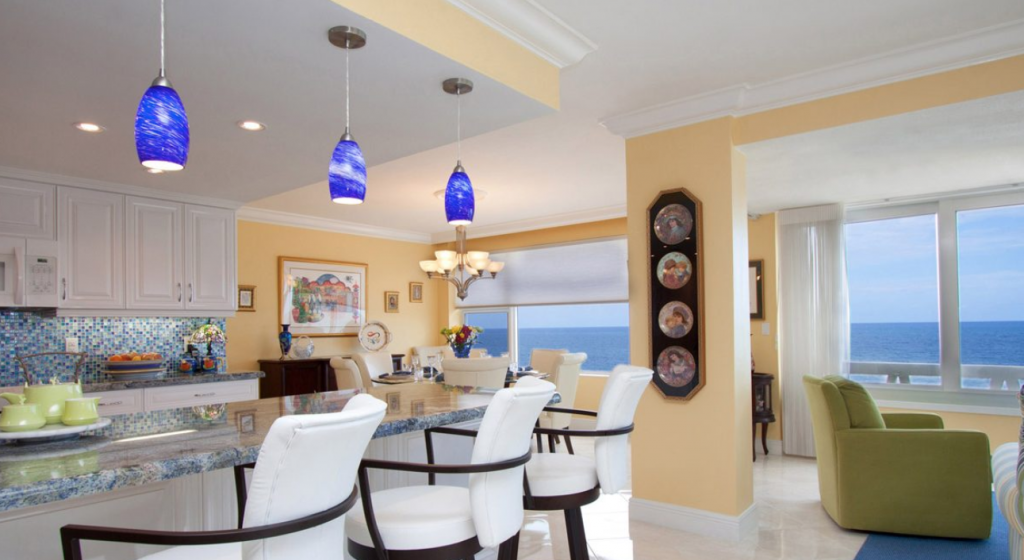 In the photo here, you can see how blue makes this room stand out with the solid color wraparound sectional sofa. The color scheme is accented with yellow, in the rug, on the wall, and even in some of the pillows and lamp. Varying shades of blue in the pillows and the many vases on the wall tie the room together.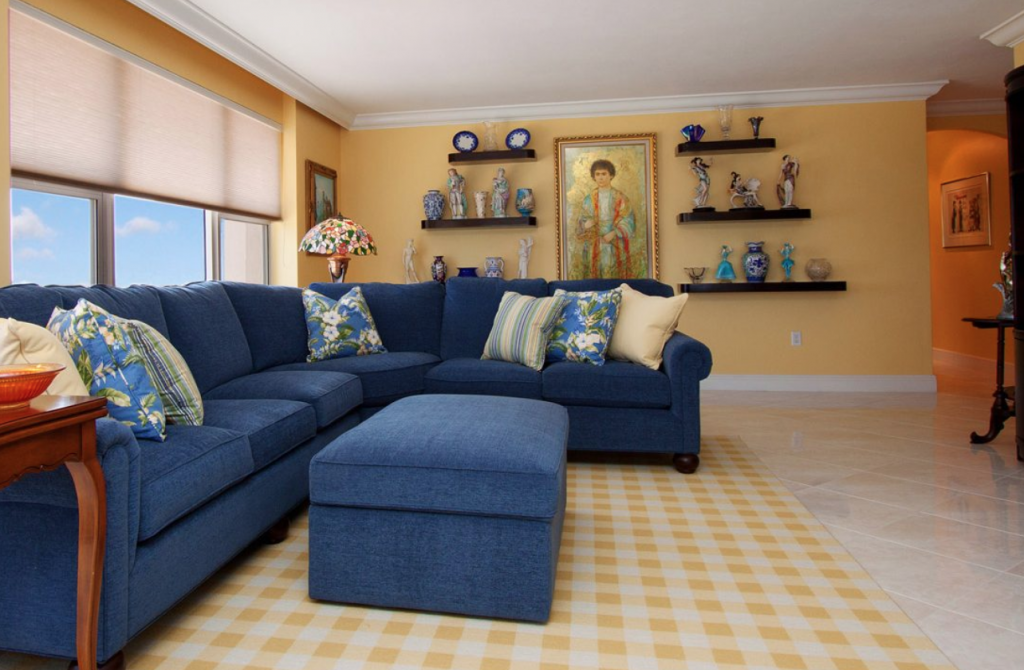 The two concept photos below are for a home currently under renovation. You can see how we incorporate blue into both the reading room and the family room. The reading room features a deep blue, patterned rug, and dark blue pillows.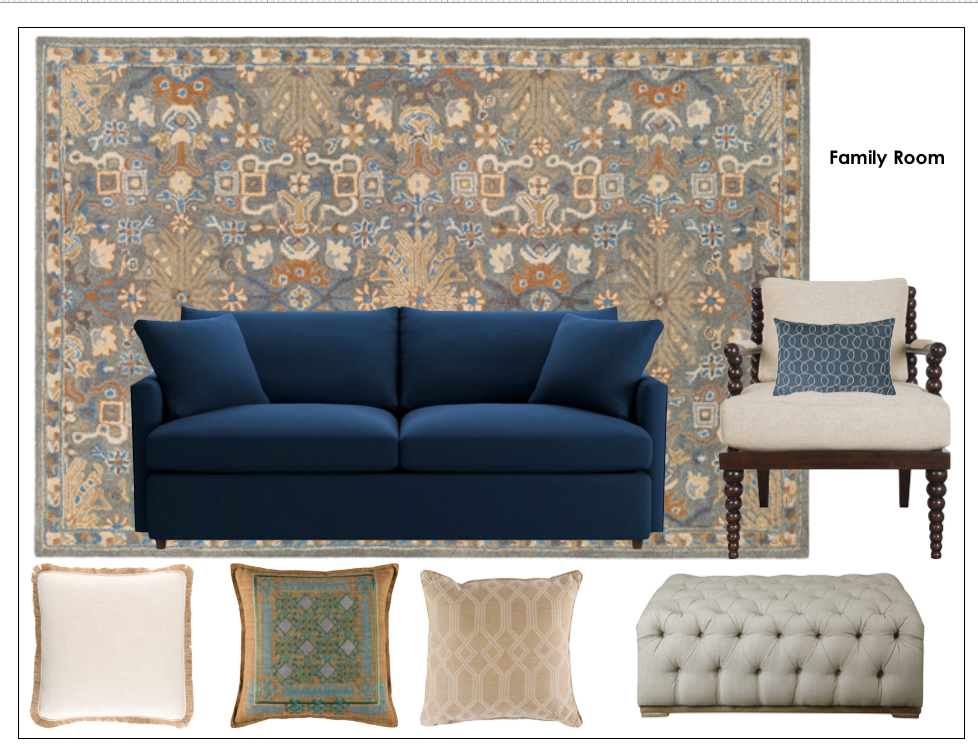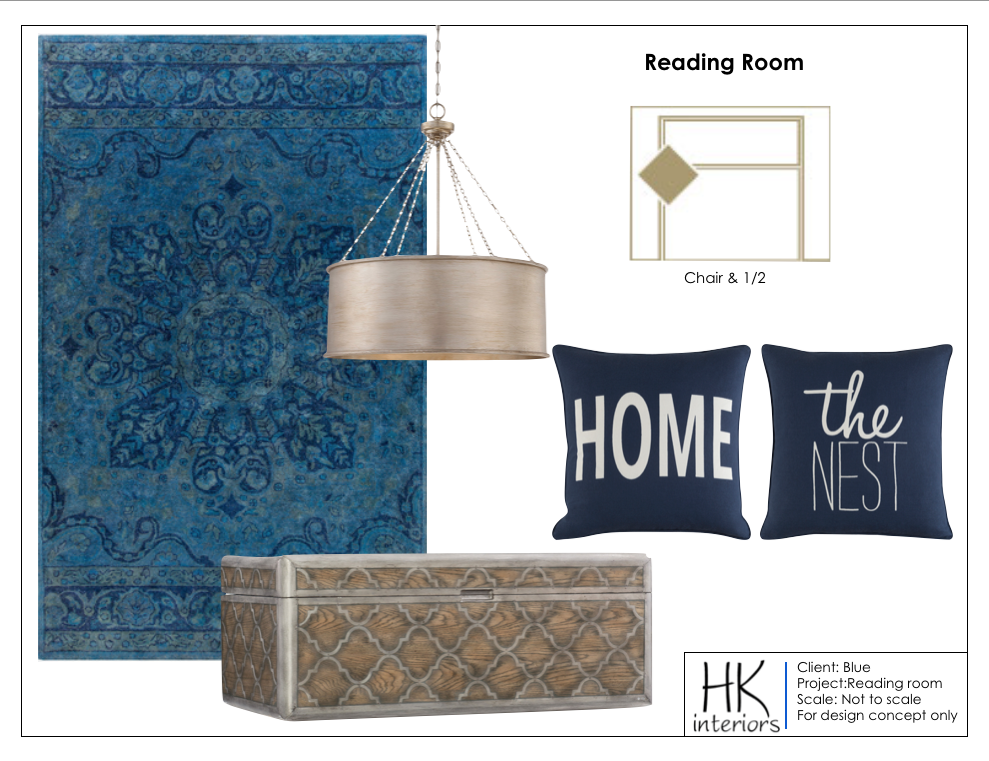 The family room makes blue more of a focal point with the rich blue sofa. Blue accents in the rug and the throw pillows complete the look.
You can see from the photos how well blue combines with other colors. If you are considering interior design with the color blue, we can help. Contact HK Interiors to discover how our interior design services can help you transform your home or office into the vision you desire. Call 954-401-8542 today for all your interior design needs.